We want you to know 4 things about Youfoodz (not Youfoods!) before you give them a go. Yup, it's time for a Youfoodz review, since we've covered many of the other prepped meal delivery companies already. They've been one of the most popular ready-to-eat meal box companies in Australia since 2012 and this HelloFresh-owned brand from Brisbane is a household name. If you're thinking about trying Youfoodz, here's what you need to know:
| Calories | Meal Options | Special Diets | Cost | Delivery | Service | Order |
| --- | --- | --- | --- | --- | --- | --- |
| Has Weight Loss Plan (-400kcal) | Many options, rotating menu | No keto, low-carb, or paleo | Affordable | Wide coverage, reliable | Much Improved | Check Price |
Don't have time to read a long article? Here are the four main things you need to know:
1. Excellent Food, Good for Weight-Loss, Good Delivery
The good news is that their food is tasty, affordable, nutritionist-certified healthy, with a wide variety and reliable delivery. Youfoodz is good for weight-loss if you choose the low-calorie menu plan. They offer four menu plans:
2. Lots of Chicken and Mushrooms, has Preservatives
Whilst the quality of the food is great (see example below), their current menu does tend to overuse certain ingredients like chicken and mushrooms. They're also not preservative and additive-free, so if you're looking for organic you should look at Garden of Vegan instead.
3. Subscription System
Whilst you can buy individual Youfoodz meals from the supermarket, they offer a much cheaper meal box subscription which can be a bit confusing and can take some getting used to. Their ordering platform has room for improvement.
4. Remind Yourself
Cancelling a week's food can be a hassle and there are no reminders sent via text or the app. You might end up with meals you didn't choose because you forgot to cancel or select meals for the week. It's best to set your own reminders to avoid surprises.
Now, let's take a closer look at what Youfoodz has to offer!
What do you Get from Youfoodz?
Basically, you're going to get a box of individually-packed meals which are designed to stay in your fridge until you're ready to pop them in the microwave. The meals are delivered fresh and, whilst you can freeze them, they are intended to be heated from their original unfrozen state. The idea is that you eat a Youfoodz meal rather than cooking your own or ordering take-out. The Youfoodz meal is probably healthier, more convenient, and lower in calories than either alternative!
The Youfoodz Subscription System and Food Menu
YouFoodz understands the importance of having a varied and balanced diet. That's why their large menu is constantly changing, with a rotation each week. You can expect to find about 60 different meal options at any given time. The meals have been dietitian backed to ensure they are packed with lean protein, healthy fats, and good quality carbohydrates. This means that you can feel confident that each meal you receive is balanced and will help you to maintain a healthy lifestyle.
Familiar, Everyday Meals
Scrolling through the Youfoodz menu, you'll see lots of familiar favourites like Beef Lasagne, Butter Chicken, and Slow-cooked Lamb. There's also a selection of more exotic food like Chicken Katsu Curry, Mexi-Beans and Quinoa Rice, and Beef Ragout Fettucine.
Four Meal Plans
To access Youfoodz' menu, you will need to subscribe to one of their meal plans. But don't worry, the process is quite flexible. (For the most part! See our section below on Problems at Youfoodz.) With the ability to cancel at any time, you can have peace of mind knowing that you're in control of your subscription.
Youfoodz offers four different plans to choose from: Everyday Healthy, Low Calorie, Vegetarian and Flexitarian. From there, you can select the number of meals you'd like for the week, choosing from 5, 7, 9, 12, 14, 16 or 18 meals. With this variety, you'll be able to find the perfect meal plan that suits your lifestyle and dietary needs.
Our Choice: The Youfoodz Low Calorie Plan
You know us, we're all about the calories! And whilst Youfoodz is not the sort of company to emphasise their focus on calories alone, of course their most popular plan is their Low Calorie plan. It is designed to deliver less than 400 calories per meal, which means that if you eat Youfoodz for lunch and dinner with a light breakfast or meal replacement shake and low calorie snacks, you will easily hit a 1500 calorie target. The meals are nutritionally balanced and quite filling too.
Youfoodz Food Example: Creamy Garlic Chicken Kyiv & Chips
With about 60 different meal options per week, there's no practical way to review every single Youfoodz meal from a nutrition and taste context. Instead, we'll zero in on what is possibly their most popular meal: the Creamy Garlic Chicken Kyiv and Chips. This will give you a sense of what to expect from the entire Youfoodz range.
How to Prepare a Youfoodz Meal
First things first, ditch that cardboard sleeve – it's not necessary. Peel back the film and chuck that sauce sachet to the side for a moment (we'll come back to that).
Pop your tray in the microwave on high for two and a half minutes but keep an eye on it in case it's done sooner. Once it's hot and ready to go, take it out of the microwave to cool for a minute or two, then peel off the film completely – no film left behind!
Now, back to that sauce sachet. Tear it open like it's the last present under the tree on Christmas morning and add the sauce to taste.
Finally, it's time to enjoy the fruits of your labour (well, the fruits of Youfoodz' labour, really).
What to Expect (Expectation VS Reality)
If you expect to get a meal that looks just like the one pictured on the box, you're probably going to be disappointed. If however you have realistic expectations you will be pleasantly surprised by the Youfoodz Creamy Garlic Chicken Kyiv & Chips meal. The southern-fried chicken pieces are actually crispy on the outside and tender on the inside, making for a satisfying bite.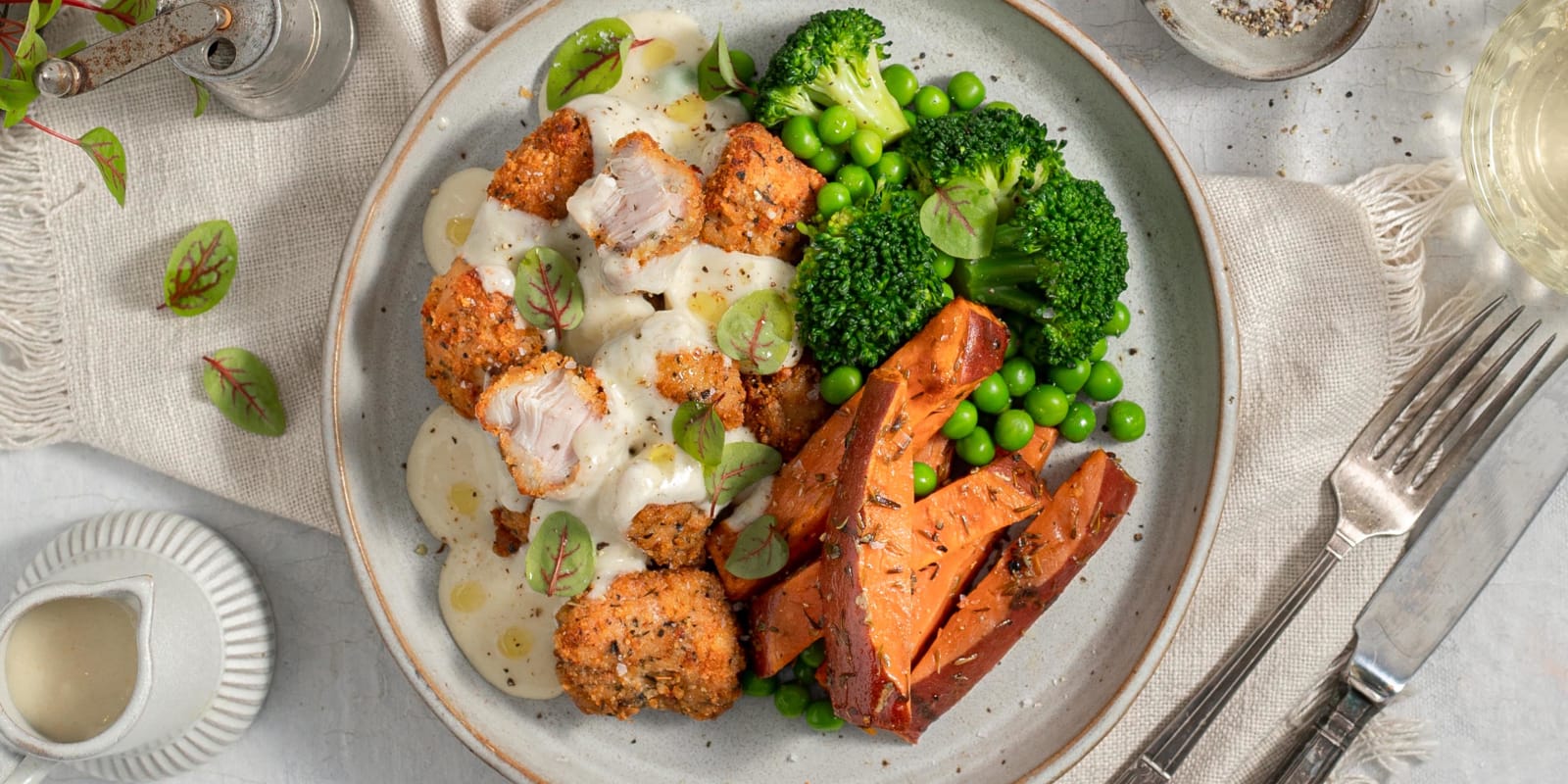 It's Saucy
But it's the garlic Kyiv sauce that really takes this dish to the next level. Cheeky and delicious, it elevates the chicken to new heights. The accompanying broccoli and sweet potato chips are seasoned with salt, pepper, and thyme, adding a well-balanced and flavourful touch to the meal.
Despite being low in calories, this dish still packs a decent protein punch, making it a guilt-free and satisfying option for any meal of the day. You might even find yourself licking your plate (and fingers) clean!
Youfoodz Nutrition
At calcount we're known for advocating sub-400 calorie meals with healthy fats for people who want to lose weight. In our opinion the nutrition content of the Chicken Kyiv meal from Youfoodz is ideal for weight loss if it is the main meal of the day in a 1500 calorie meal plan.
Less than 400 Calories
The meal contains 381kcal per serving which is "main meal" level, and the carbohydrate content is quite high at 36.5g per serving. The meal contains a decent amount of dietary fibre, but it also contains a relatively high amount of sodium at 1100mg per serving, which is about half of the recommended daily intake.
Has All the Macros
The Youfoodz meal contains some healthy fats, with the total fat content of 13.5g per serving being what you'd expect meal that has the word "Creamy" in its name. There is also a significant amount of sugar at 16.3g per serving, which may not be ideal for those who are trying to reduce their sugar intake.
Overall, the Chicken Kyiv meal from Youfoodz is a tasty option for those who are looking for a tasty portion-controlled sub-400 calorie main meal with balanced macros and enough dietary fibre.
Youfoodz Meal Ingredients
Using the Creamy Garlic Chicken Kyiv and Chips as an example, it is plain to see that Youfoodz pays specific attention to nutrient balance and familiar flavours. This ingredient list is an excellent example of a balanced and nutritious meal.
Protein and Carbs
The sweet potato, which makes up 40% of the dish, is a great source of complex carbohydrates and dietary fibre, providing sustained energy and promoting digestive health. The chicken, comprising 17% of the meal, is an excellent source of lean protein, helping to build and repair muscles and supporting the immune system.
Vitamins and Minerals
The broccoli and peas are a great source of vitamins and minerals, including vitamin C, vitamin K, and folate, providing important antioxidant and anti-inflammatory benefits. The breadcrumb and flour add a nice texture to the dish, while the whole egg and milk powder contribute to the overall protein content. The butter and parmesan cheese provide a rich and satisfying taste.
Digestive Support and Phytochemicals
Garlic is a key ingredient, adding flavour and some potent health benefits, including immune-boosting and anti-inflammatory properties. The herbs and spices add depth and complexity to the dish, while also offering a range of health benefits, such as digestive support and antioxidant properties.
Overall, this meal is an excellent choice for those looking for a well-balanced and nutritious option, with a range of vitamins, minerals, and macronutrients to support overall health and wellbeing.
Creamy Garlic Chicken Kyiv and Chips Ingredients:
Sweet Potato (40%), Chicken (17%), Water, Broccoli (6%), Peas (6%), Breadcrumb (Wheat), Flour (Wheat), Whole Egg, Milk Powder, Butter (Milk), Garlic (1%) (Acidity Regulator (260), Preservative (223)), Chicken Booster (Colour (Carotene)), Parmesan Cheese (Milk, Cultures, Non-Animal Rennet), Salt, Thyme, Sweet Paprika, Garlic Salt, Onion Powder, Mustard Flour, Ground Ginger, Oregano Mix, Black Pepper, White Pepper, Basil.
Youfoodz has No Special Dietary Requirements Plans
Youfoodz makes a point to avoid offering plans for special dietary needs. Their position is that they make well-balanced, nutritious food for everyday lifestyles, so you won't find meal plans catering for keto, low-carb, or paleo diets.
From a nutritionist's perspective, this position may be seen as somewhat exclusionary. While it is understandable that Youfoodz may not cater to every specific dietary requirement, it would be more inclusive to offer at least some options for people with various dietary needs, such as keto, paleo or low carb.
Time-Consuming if Customising Yourself
They suggest that people who want to meet specific needs check the menu and nutritional information for each meal before ordering. This can be a time-consuming process for those who are looking for meals that fit their specific dietary requirements. It would be more user-friendly to provide a filter option that allows customers to easily identify meals that meet their specific needs.
Overall, while Youfoodz offers a wide selection of meals, it would be beneficial to expand the range of dietary requirements that they cater to and improve their user experience for customers with specific needs.
How Youfoodz Works
Youfoodz is a flexible meal delivery subscription service that offers a wide selection of ready-made meals. With the option to skip or cancel a week before the weekly order cut-off time, it is a convenient service for those with busy schedules. After selecting your preferred meal plan, the service will suggest meals that fit your preferences. However, there is also the option to swap, pick, or add meals, snacks, and drinks for the week.
The delivery days and cut-off times vary depending on your state (see Delivery details below), but you can change your delivery day even after signing up by going to the 'Account Settings.' Youfoodz delivers fresh, ready-made meals straight to your door every week, so you can enjoy healthy eating without the hassle. Although the service is convenient, some customers have reported difficulty finding a way to select meals that fit their dietary requirements or to prevent automatic meal changes for the following week.
Thus, Youfoodz is a suitable service for anyone looking for a flexible and convenient way to enjoy healthy meals. The service offers a good variety of meal options and provides fresh meals, which can be an ideal solution for busy individuals.
Youfoodz Subscription Plan
On offer are 7 different meal plan sizes with a range of 5 to 18 meals for their customers. They allow customers to easily switch between the different plan sizes on their My Account Settings page, and customers can also pick up to 28 meals per order.
The price per meal depends on the number of meals ordered, with a lower price per meal for those who order more. Customers can view the prices for each meal plan size on the Youfoodz website.
New customers can take advantage of a special low price discount with meals starting at just $4.99 each by signing up for a flexible meal plan.
How to Sign Up for Youfoodz Meal Plan Subscription
This is how you can sign up for a Youfoodz meal plan subscription (you'll need to be online):
Head to the Youfoodz website and click on "Our Plans" or "Get Started" depending on your preference. These are the two main options for users to choose from when you visit their website.
Select your meal preference from the options provided – Everyday Healthy, Low Calorie, Vegetarian or Flexitarian. You can choose from four different meal preferences based on your dietary requirements.
Choose the number of meals you want to receive each week from the options provided – 5, 7, 9, 12, 14, 16 or 18. You can choose how many meals you want to receive each week, depending on your individual needs.
Enter your email address, delivery address, and select your preferred delivery day.
Add your payment method to complete the subscription process.
Choose from 60 different meals, snacks, and drinks that fit your preferences. You can select from a variety of meals, snacks, and drinks that suit your preferences and dietary requirements.
Once you have selected your meals, Youfoodz will send you an email confirmation and some tips on how to manage your account.
You are now signed up for Youfoodz meal plan subscription. You can change your meal plan size each week by going to "Account Settings".
How Much Youfoodz Costs
Youfoodz costs are in line with most of the other meal delivery companies in Australia. Expect to pay about $130 per week before discounts if you choose 12 meals from the Low Calorie plan (see screenshot). This amount could increase quite a bit if you decide to add-on extras like drinks and snacks:
Balls and Bites range: $2.99-$4.95
Bars and Cookies range: $2.99 – $4.95
Juices and Smoothies range: $4.95-$16.95
Youfoodz is available in Store
Remember that you can always buy Youfoodz meals directly from over 4000 shops nationwide, including Woolworths, Coles, IGA and more.
If you buy Youfoodz products from a supermarket or other retailer, you'll find that the price is significantly higher than in a subscription. Keep an eye out though, because sometimes you'll find a great deal at the shops when there's a sale on!
Where and When does Youfoodz Deliver?
One of the biggest benefits of Youfoodz is that they have a strong, nationwide logistics and delivery system, which varies by state. For NSW, VIC, ACT, QLD, and TAS, delivery days are available from Saturday to Friday, with cut-off days at different times depending on the day.
Meanwhile, for SA and NT, delivery days are also available from Saturday to Friday, with cut-off days at 11:29 PM. For WA, the delivery days are only available on Tuesday and Thursday, with a cut-off day of 9:59 PM.
Customers can change their delivery day by accessing the "Account Settings" feature.
Problems at Youfoodz
At calcount we've found that Youfoodz customers enjoy the tasty food and wide selection of meals, however some customers have reported difficulties with the service. The lack of an option to filter meals by dietary requirements, such as dairy or gluten-free, can make the selection process frustrating.
Additionally, some customers have reported feeling misled by the requirement to provide credit card details before being advised of a two-week delivery date, and prior to being able to choose meals. This was perceived as sneaky and was seen as a departure from the company's previous, nearly next-day delivery service.
Customers have also expressed confusion about the subscription service automatically changing meals for week 2 and the absence of a setting to prevent this or to reorder the same meals without going through each meal individually.
Customers also find it inconvenient to have to click into each meal to read the macros and ingredients, rather than having them listed on the menu selection page.
Finally, the excessive amount of promotional emails, texts, and letter drops has been seen as a nuisance by some customers.
The Youfoodz App
The Youfoodz App makes it easy to manage your plan. You can mix and match meals for the week and add snacks and drinks for on-the-go. With the app, you can easily flex your plan to suit your lifestyle. You have the freedom to pause, skip or cancel your subscription at any time. Updating your preferences and details is a breeze, as you can do it all through the app. Plus, the app offers exclusive discounts and keeps you up-to-date with special offers. If you have any questions, you can get access to FAQs.