Is there such a thing as low-calorie fast food? Can you get a takeaway meal that won't break the 500-calorie barrier? Yes, you can but it is not easy, especially when there are so many up-sizes, add-ons, and condiment extras when you order. There is not a fast-food chain which deals in only low calorie food, so one has to comb through the menu to pick out single items that could be defined as being low in calories. For our purposes, we're calling a single-serve menu item which contains less than 500 calories a low calorie option.
With this post, we're going to look at some examples of low calorie takeaways from popular Australian fast-food restaurants. We'll compare similar meals from competing providers. Both options are "low calorie" but one has lower calories than the other and wins:
Cheeseburger: Maccas VS Hungry Jacks
Think fast-food and the cheeseburger is what comes to mind. A single cheeseburger, without fries, drink, or extras is a sub-500 calorie option! Let's look at two of the most popular:
Winner: McDonald's Cheeseburger 300 Calories
One Macca's cheeseburger has 300 calories, or 1,260 kilojoules. One of these is quite small in the hand and unlikely to fill you up, but if you can manage to resist the allure of bigger options you'll be doing well. If you're aiming for 500 calories, you have 200 left to play with. We'd recommend something low-calorie and filling, like carrots or a big bowl of lettuce.
PS: Check out our McDonalds Menu Calories Ranked post here!
Hungry Jack's Cheeseburger 315 Calories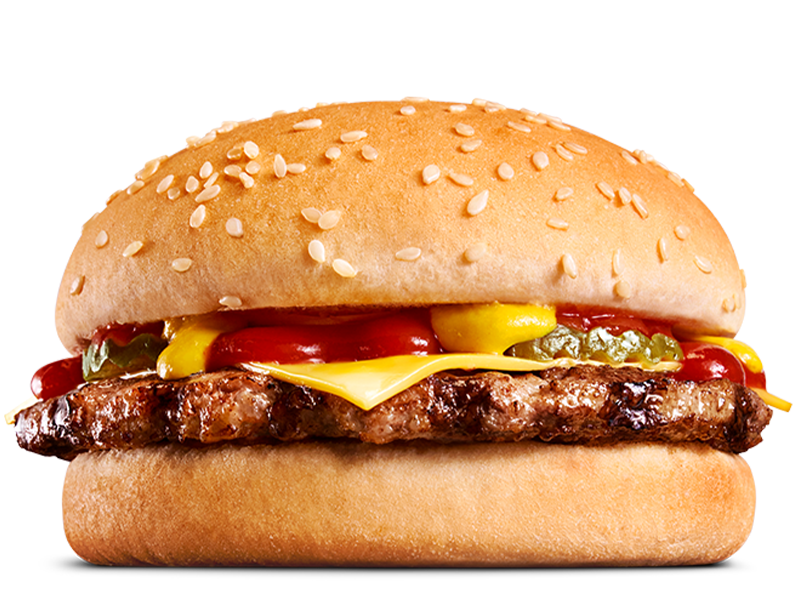 A cheeseburger from Hungry Jack's will add 315 calories (1,320kJ) to your daily calorie count. That's a 5% greater amount that what the alternative from McDonald's will do for you.
You can see Hungry Jack's Penny Pinchers Menu calories here!
Salad Wrap: Subway VS LeWrap
For many, choosing a salad-filled wrap instead of a burger seems like the healthier, lower-calorie option. In many cases, it is! Just make sure that you are getting enough protein from your other meals, and you could do a lot worse than one of these for lunch:
Low Calorie Winner: Subway Veggie Delite with Avo Wrap 303 Calories
We've covered all the Subway subs in one of our calories ranked post, so if you've seen that one you'll know that Subway is a good fast-food choice. If you can avoid over-indulging with the creamy sauces, a Veggie Delite with Avo is a solid choice with 303 calories (1,270kJ).
LeWrap Classic Vegetarian 423 Calories
This fancy vegetable wrap from LeWrap features grilled mushrooms and mozzarella cheese. At 423 calories (1,770kJ), it is much more calorific than Subway's veggie wrap. Still less than 500 calories though!
Grilled Chicken: Oporto VS Nandos
Sometimes the mood for spicy grilled chicken comes over and before you know it, we're in the car driving toward the smell of the flame-grill. The good news is that if you stick to just the chicken, and not too much of it, your takeaway can stay below 500 calories.
Winner: Oporto Quarter Chicken 340 Calories
When basted with just the original chilli sauce, Oporto's quarter chicken comes in at 340 calories, or 1,410 kilojoules. You'd think that this flame-grilled quarter-chicken would have the same calories as any other flame-grilled quarter chicken with similar basting, but:
Nando's Quarter Chicken 425 Calories
A quarter chicken from Nando's has 425 calories (1,780kJ), which is a whopping 85 calories more than the Oporto alternative. Why? Simple, the Nando's portion is much bigger. It weighs 230 grams compared to Oporto's 178 grams. Maybe they use bigger chooks?
Want to see more Nando's calories? Right here!
Quesadilla: Zambrero VS Guzman Y Gomez
You'd be hard-pressed to find anything with less than 500 calories in your average Mexican-themed fast-food burrito bar. Salads aside, the only low calorie option is a single-serve quesadilla (tacos are generally not eaten in single form). Here are two options:
(Sauce Dependent) Winner: Zambrero Barbacoa Beef Quesadilla 378 Calories
A sauce-free Zambrero Barbacoa Beef Quesadilla serve has 233 calories, but to be fair we've added three sauces to arrive at our 378 calories (1,582kJ).
We've got calorie information for all the Zambrero burritos!
Guzman Y Gomez Mild Slow Cooked Beef Quesadilla 467 Calories
One serve of Guzman Y Gomez Mild Slow Cooked Beef Quesadilla has 467 calories, or 1,950 kilojoules. This makes the Guzman y Gomez beef quesadilla a much more calorific alternative to the Zambrero beef quesadilla.
Chicken Burger: KFC VS Chicken Treat
The chicken burgers we're talking about here are the ones made with real chicken breast, not the reconstituted chicken patty type. When it comes to choosing chicken sandwiches, the key thing to remember is that cheese slices and mayo-type sauces are calorie-intensive. If you can bear a cheese-free, sauceless sandwich, you'll be doing your waistline a favour. These competing chicken burgers prove the point:
Low Calorie Winner: KFC Original Recipe Burger 408 Calories
The classic KFC chicken sandwich that people all over the world cross the road for is a sub-500 calorie option. One of these KFC Original Recipe Burgers has 408 calories, or 1,707kJ, so if you skip the chips, extras, and sugary drink you can enjoy one without destroying a 1500 calorie meal plan.
Check out the KFC menu calorie ranked!
Chicken Treat Tempta Burger 507 Calories
Yes, this one breaks the 500-calorie barrier, but only just. On a lax day, and especially considering all the other options, one might yet describe this chicken sandwich as being low-calorie. The Chicken Treat Tempta Burger features a slice of cheese and mayo yet still manages 507 calories (2120kJ).
We've covered Chicken Treat menu calories too!
The Takeaway from reviewing Low-Calorie Takeaways
At the end of the day, you just have to realise that fast-food is just not low calorie food! However, when you are desperate, without any convenient alternatives, there are some low calorie options to choose from the big fast-food chains. However, you must be determined not to upsize or get the bundled meals which come with fries, soft drinks, desserts, and other extras. Stick to basic, small, or regular sized fare with little or no sauces and you can stay below 500 calories per meal.